[Addendum: To witness for yourself how atrocious Singaporean students also are in English, please read Chee's latest entry, which also further highlights the horrendous Chinese standard of Singaporean teenagers.]

Marking Chinese essays written by students almost made me want to burst into tears and tear my hair out. Or perhaps I should tear their hair out instead. I am telling you now that Singapore's bilingual policy is a complete and utter failure. My students' overall Chinese standard is so unbelievably shockingly abysmal that I almost suffered from aneurysm the first time I witnessed for myself the incredibly pathetic Chinese standard of Singaporean students. They wrote wrongly even the simplest of words, and it was so extremely horrifying that I was rendered totally speechless. They have such a weak grasp of the language that their sentences are all syntactically incorrect, their understanding of the most basic words is almost non-existent, their ability to absorb new content is astonishingly lacking. Yes, I understand that as a teacher I am supposed to guide them patiently, but they are not even meeting the lowest of expectations! Can you imagine a 9-year-old English student not knowing how to spell the word 'swimming'? I am sure you can't. And my students are already at least 13 years old, and some of them don't even know how to write 'swimming' in Chinese!

Oh poor Lee the Father of Singapore, you invested so much faith in the future of our country - your decision to implement the bilingual policy was made in ardent hope that Singaporeans would one day become truly linguistically eloquent and effectively bilingual - but your efforts have all come to naught! My heart cries for you, Lee the Father! I shall now daintily dab my tears dry with a pink handkerchief. Forgive me - I can't cry you a river as much as I want to, because Singapore is such a puny island that it will definitely drown in my tears if I do, and then all Singaporeans will die (I can hear a cello weeping in the background)! *gasp in horror*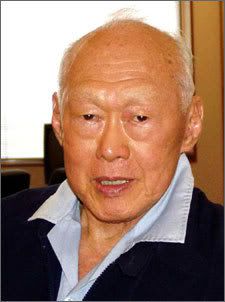 Lee the Father stares at me in disbelief as his jaws hang slightly loose. He finds it difficult to bring himself to reconcile to the fact that his bilingual policy is a failure.
OK, anyway, just to prove how bad Singaporean students are in Chinese, I shall now show you snippets of their essays. When it comes to words that they do not know how to write, they would scribble down the
hanyu pinyin
of those words instead. And the worst thing is, they can even get the
hanyu pinyin
wrong. Their essays are so incoherent and they mutilate the language to such an enormous extent that when marking their essays I was repeatedly reminded of
Miss M.
. Tragic, isn't it?
I hope the following will make you laugh, though it really wasn't funny for me at all that I had to endure essay after essay of such unacceptable nonsense:
"他fa xian地上有la圾,于是把la圾丢进la圾tong里面。他心想如果新加坡是一个爱wei sheng的国家,地上就没有la圾,也可bao护hua jing的花草树木和家中就没有蚂蚁和zhang lang."
"他打点话给他的朋友,可是他的朋友没有在家。他不可以明白那些说的话。他很hun luan,他不知道什么人说华文什么人说ying文。他打点话还打点话。"
"我不是一个外国人,但是我猜想在外国人的眼里新加坡是个还可以在新加坡的吧。"
"但是也有新加坡人把他们不要的东西拿到地上,不果有清洁工人。"
"二十年后,新加地可能场在,可能在海底下或背别的国家打得落花流水。二十年后什么事请都那发生到,新加坡可能不场在可能进步很多我们是不到的。我们要真希我们所爱的动不然可能会后悔一百子。"
"她去公园和动物园。她去了公园时,她_____有好多的小男生_____的小女生像她们是玩_____一样。许心就跟自己说:'新加坡有那种男生在跑来跑去的做不应该做的事。'许心不想看那种人了,那就是因为她快_____去了动物园。"
"她就跟朋友和家人说:'你们应该去看看新加坡。你会_____得很舒服!去吧!'许心就给它们看。"
"有些外国人却会说新加坡有个扔圾。"
"外国人对新加坡的影响是新加坡是很干清的地方,有很绿绿的树。"
"新加坡的花朵颜色很美,向彩缸一样。外国人喜欢去动物圆,那里有星星和莺乌。"
Alright, right now I desperately need to take a rest and calm myself down before I explode. See you around.